---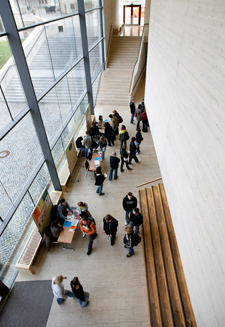 ---
Login into Contactus
Options
---
---
Spring term 2020: German Language Course A1
summer term 2020
During the summer term, the PhD Network offers German language courses for international PhD students, postdocs and their partners.

The A1 course begins on 07th of April 2020 and ends on 16th of July 2020.

Time: Tuesdays & Thursdays, 6-7.30 p.m. (60 lesson units total)
Place: Melanchthonianum, lecture hall G
Teacher: Ms. Dhekra Toufahi
Participation fee: 80 €
Deadline for registrations: 15th of March 2020

1. Please first read all the information on this course carefully and then register.
2. After you have registered, please transfer the participation fee of 80 € to the account stated below. Do not transfer the fee if the system tells you that you are on the waiting list. Places are given on a first-come-first-served basis.

The A1 class at a glance:
Course language
German and English
Course language level
A1 – Breakthrough or beginner
Start
Tuesday, April 7, 2020, 06:00 pm
Location
Melanchthonianum, lecture hall G
Organisers
PhD Network
phd.network@international.uni-halle.de
Registration begins
Thursday, January 9, 2020, 01:00 pm
Registration ends
Sunday, March 15, 2020
Places available
2
Cancelation until
Sunday, March 8, 2020
Fee
Payment until
Sunday, March 15, 2020
Payment method
Bank transfer
Payment account name
MLU Halle-Wittenberg
Payment account number (IBAN)
DE05 8100 0000 0080 0015 24
Payment bank code (BIC)
MARKDEF1810
Payment bank name
Deutsche Bundesbank, Filiale Magdeburg
Payment use
R02035832, Eigenbeteiligung Sprachkurs, [Name of the participant]
Further information
Please make sure to give exactly this payment use in the field "Verwendungszweck"/payment details, so that the financial department can trace the payment to us.
Self-assessment:

To make sure you choose a suitable level, we ask you to take an online language test. Please take the test at the level you feel you are at, and enter the result of your test (in %) in the registration form. Please also send a PDF/screenshot of the result to phd.network@international.uni-halle.de.
Description of the levels: Common European Framework of Languages
Link to the language test: Cornelsen language test
You do not need a test:
if you intend to take level A1
if you have regularly attended a PhD Network course during the current semester (at least 60%)
if you want to attend a course at level C1
back to course overview
---
---